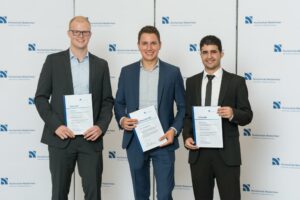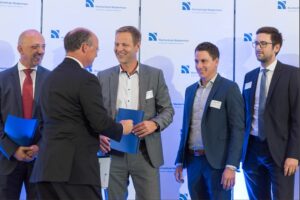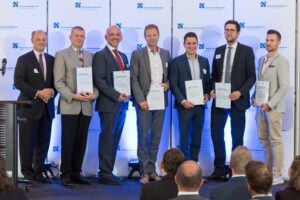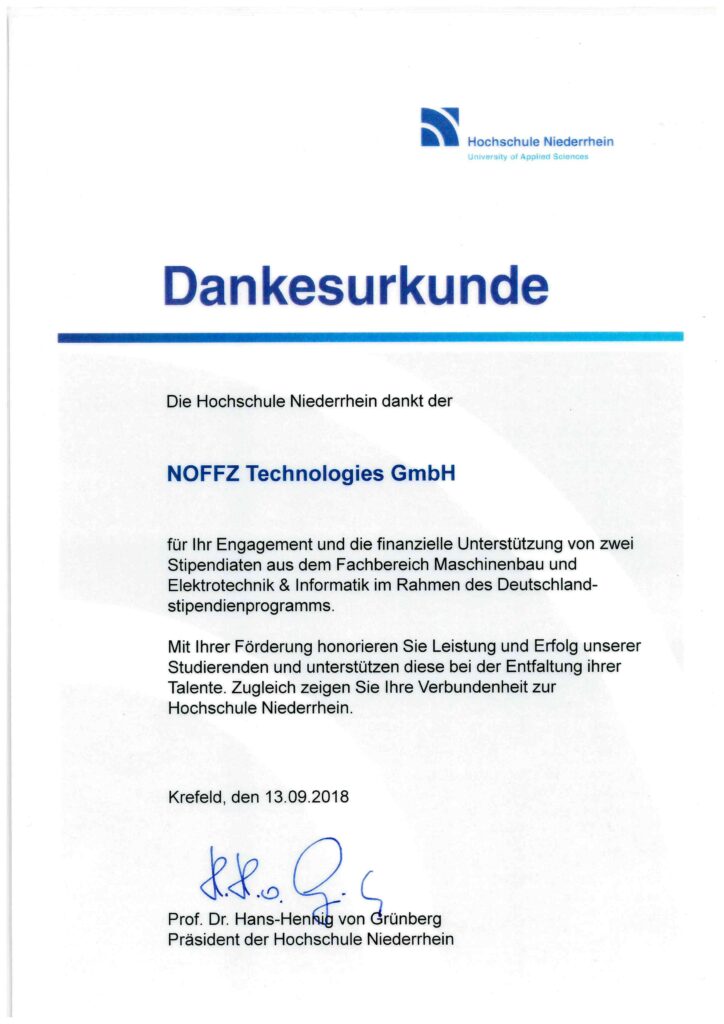 200 students are supported with a scholarship from Germany
True to the motto "INVEST IN THE BEST" We are happy to invest in two engineers of tomorrow. As part of the #Deutschlandstipendium together w/ Hochschule Niederrhein, we awarded two scholarships to engineering students for their outstanding performance. You both deserve it and all the best for the rest of your studies!
Mönchengladbach, 14 September. In the 2018/19 winter semester, the Niederrhein University of Applied Sciences was once again able to acquire 200 German scholarships for its students. A total of 62 predominantly regional companies are acting as sponsors. Yesterday evening, the 200 students received their scholarships and got to know their sponsors. The Germany scholarship is funded by the Federal Ministry of Education and Research (BMBF). The companies support students who are particularly willing and strong to perform with 150 euros per month. The Ministry adds 150 euros for each scholarship holder, so that students have 300 euros a month at their disposal through the scholarship.
"As a university, we benefit only indirectly from the Germany scholarship. But it helps our students on the one hand and the regional companies on the other to network. We are the platform on which contacts between companies and the specialists of tomorrow can flourish," said University President Hans-Hennig von Grünberg yesterday evening at the scholarship award ceremony on campus in Mönchengladbach.
Mathias Grütters, student in the third semester of the Master's programme Product Development in Mechanical Engineering, is one of the 200 sponsored students. First of all, he is pleased about the financial support, he said. "This makes our studies easier. You are less dependent on secondary occupations. But more important is the idealistic support. "Many of my fellow students are enthusiastic about the company tours, the personal discussions and the invitations to employee events. Because here we see and hear how things actually work in practice. The direct contact is great".
Dr. Saba Kascha, Director HR Strategy & Organizational Development at Canon Germany, then spoke on behalf of the 62 sponsors. "The commitment within the framework of the scholarship programme is a great opportunity for us to live our social responsibility, which is a central part of our corporate philosophy, not only internally but also externally, and thus meet our own expectations. Furthermore, it is my very own interest as personnel director to come into contact with talents and potentials at a very early stage, to accompany them in their development, to observe them and, of course, to win them over for Canon. The cooperation with the Niederrhein University of Applied Sciences offers a great opportunity for this".
Canon Germany, like Fressnapf Tiernahrungs GmbH, is offering twelve scholarships in the coming winter semester. Eleven scholarships will be awarded by the Georg Gottlob Foundation. Ten scholarships are awarded by ALTANA AG, Cho-Time GmbH, Evangelische Stiftung Hephata, Evonik Stiftung and Santander Universities. These companies can choose their scholarship holders in Germany themselves.
More Information